Discover the Sheikh Zayed Mosque in Abu Dhabi
Grand Mosque Abu Dhabi
The most popular attraction in Abu Dhabi is the Sheikh Zayed Mosque. It is the eighth largest mosque in the world and the largest in the United Arab Emirates. After 11 years of construction, it was opened on a 56-hectare site in Ramadan 2007 and named after "Emir Zayid bin Sultan Al Nahyan". Up to 40,000 believers can come together and pray in this religious place.
And not only this number is breathtaking! Just as one is used to from the Emirates, this mosque also breaks some records.
World records were achieved
It may not be the largest in the world, but its main dome with a diameter of more than 32 meters, the more than 5,000 square meter hand-knotted carpet or one of the 7 chandeliers that were built in Munich hold some world records.
If you are in Abu Dhabi, Dubai or the surrounding area, you should not miss this unique building – you can't stop being amazed. With the construction of the mosque, Sheikh Zayed wanted to combine the culture of the Islamic world with historical and modern architecture and art.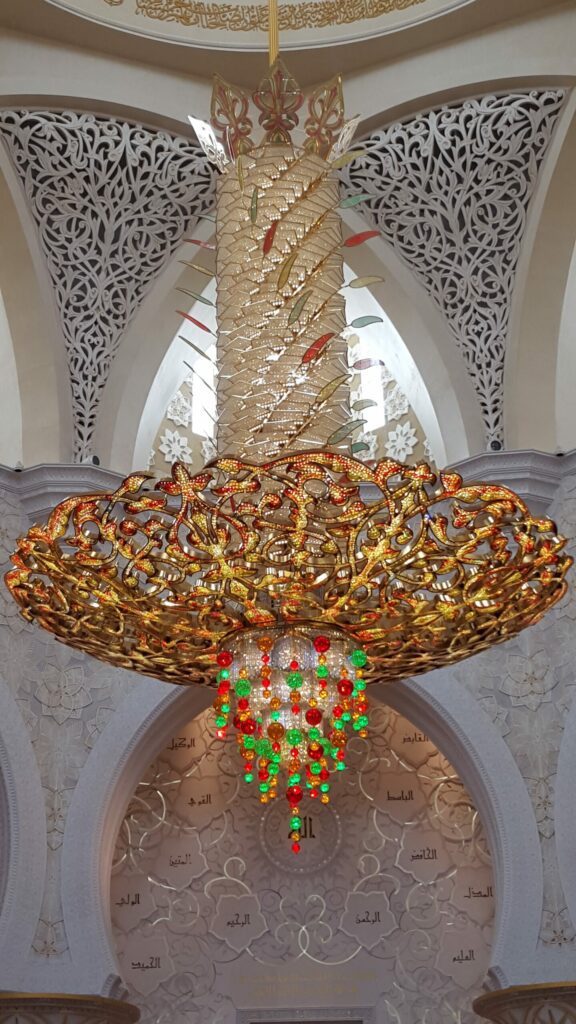 Used Material
3,000 people from all over the world helped and a total of 545 billion dollars. Different types of marble, a lot of gold leaf, different types of mother-of-pearl and Swarovski crystals were processed, the largest hand-knotted carpet in the world is laid here and the 7 chandeliers with 24-carat gold and thousands of crystals that were imported from Germany. And yes, you read that right: The chandeliers were imported from Germany!
Wonderful Design in the Mosque
There are seven chandeliers of this type in the mosque. They have adorned with lots of gold and crystals and the beauty is really overwhelming!
Furthermore, the many pillars, including those in the large prayer hall, are embellished with elaborate patterns made of mother-of-pearl, and this hall also has the largest hand-knotted carpet in the world.
This was made with over 2 billion knots! It took more than 1,200 people to make the 5,600 square meter carpet.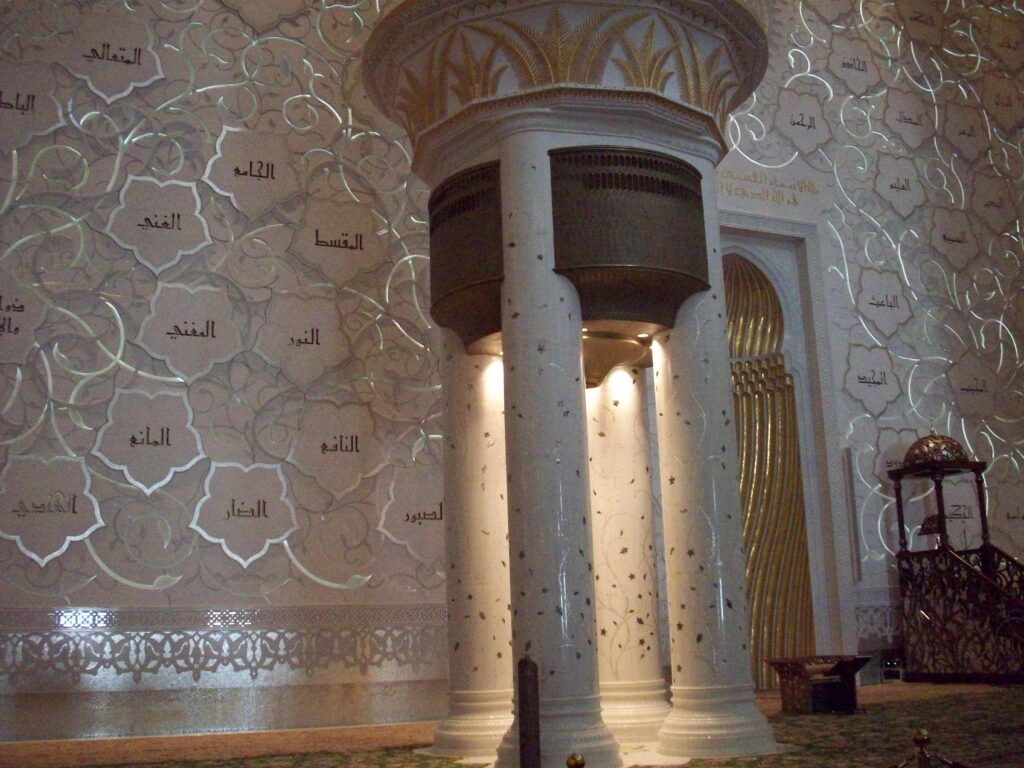 The 99 names of Allah by Mohammed Mandi Al Tamimi were calligraphed on the Qibla wall.
However, these were just a few examples of the overwhelming impression the mosque leaves.
Dress Code in the Sheikh Zayed Mosque
The Sheikh Zayed Mosque is an important religious place, there are of course strict dress codes.
Men only have to wear long trousers and do without sleeveless T-shirts. Short-sleeved T-shirts are allowed for men.
Women must cover their hair with a headscarf or something similar, and legs to the ankles, shoulders, arms and wrists must always be covered.
Before entering the Mosque it is possible to borrow an abaya. This is a long thin cape that also has a hood to cover the hair.
Opening hours Grand Mosque Abu Dhabi
General opening times are:
Saturday to Thursday from 9:00 AM to 10:00 PM (last admission 9.30 PM)
Friday from 9:00 AM to 12:00 PM (last admission 11.30 AM) and 3:00 PM to 10:00 PM (last admission 9.30 PM)
Opening times during Ramadan are:
The first 20 Days:

Monday to Sunday from 10:00 AM to 6:00 PM and 9:00 PM to 1:00 AM
Friday from 3:00 PM to 6:00 PM and 9:00 PM to 1:00 AM
The last 10 Days:

Monday to Sunday from 10:00 AM to 6:00 PM
Friday from 3:00 PM to 6:00 PM
Free entry